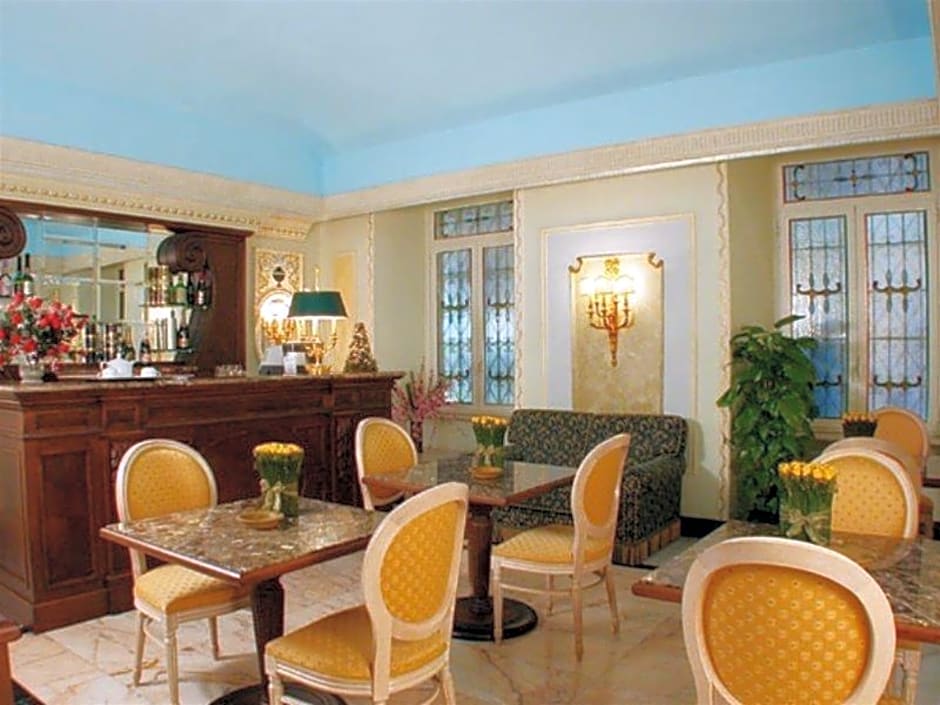 The Hotel Champagne Garden is perfectly located near to some of the most spectacular sites of Rome like Diocletian Bath (Terme di Diocleziano), Piazza della Repubblica (Rome), Teatro dell'Opera di Roma, and Porta Pia while the monumental Termini Central Station is situated close by.

Accommodation
The traditional guestrooms of Hotel Champagne Garden display large windows that open, functional desk/workspace, together with an impressive selection of invaluable items such as premium satellite channels, free Wi-Fi, direct-dial telephone, in-room safe, well-stocked minibar, and air conditioning. What's more, extras in the form of hair dryer, bidet, combined with complimentary toiletries contribute to the accommodating atmosphere. Provisions like cribs/infant beds are obtainable upon request.

Hotel Facilities
Along with delicious complimentary breakfast, Hotel Champagne Garden features numerous on-site amenities; namely, newspapers and television in the welcoming lobby, an assortment of beverages at the casual bar/lounge, not to mention free Wi-Fi and air conditioning in public quarters. Moreover, patrons are privy to multiple meeting rooms, express check-in/out services, and 24-hour front desk assistance. The knowledgeable, multilingual staff is readily available to deliver excellent service.

Transportation
Hotel Champagne Garden can arrange transportation from and to Rome's airport, which is only 14 kilometres away while the city's popular train station is within the surrounding area. Furthermore, a plethora of cultural attractions, leisurely activities, and dining venues are a brief stroll away. Those travelling by vehicle find nearby parking options fitting.
予約する方法
Champagne Gardenで予約するのが簡単で安全でございます。ご希望の日付を選択します。そして、フォームを送信するために「料金を確認し」というボタンをクリックします。 客室タイプと料金はお宅の画面に戻った後で、画面の中央にある部屋の情報を読むと画面の右側にある「予約する」というボタンをクリックすることによって希望の料金を選択することができます。希望の客室タイプを選択した後で、「ご予約を完了」というフォームに転送されます。その時に「滞在の詳細」を確認して、「ゲストの詳細」という部分の空欄でご自分の詳細のことを書きます。ご自分の名前とメールアドレスが正しく入力されていることを確認してください。 すべての重要な情報を記入した後で、「ご予約を完了」というボタンをクリックしてください。ご自分のセキュリティを確保するために、私たちがクレジットカード番号を暗号化し、非使用可能な形式にエンコードする安全なコマースサーバーを使います。
地域情報
空港

Rome, Italy (CIA-Ciampino)

- 8.54 mi

Rome, Italy (FCO-Leonardo Da Vinci)

- 15.01 mi

ミュージアム

Museo Nazionale Romano

- 0.26 mi

Termini Art Gallery

- 0.26 mi

National Museum of Rome

- 0.32 mi

MACRO Museum of Contemporary Art of Rome Museo d Arte Contemporanea Ro

- 0.59 mi

Museo d'Arte Contemporanea di Roma

- 0.59 mi

Museo Nazionale di Arte Orientale

- 0.71 mi

National Gallery of Ancient Art

- 0.73 mi